Punggol – The Nature Within
Punggol Grassland during sunset (above)
Author & Editor
Author: Roger Deng
Editor: <Please add your name here if you have edit this article>
Photographs and article are copyright of Roger Deng
A little history about Punggol
Kampong Punggol, which was located in the vicinity of the Punggol Jetty, was believed to have existed 200 years ago, even before Sir Stamford Raffles founded Singapore. It was one of the oldest settlements in Singapore. The original settlers were predominantly Malays. Fishing was then the main activity. Villagers also planted fruits and vegetables.
In Malay, Punggol (also spelled Ponggol), means hurling sticks at the branches of fruit trees to bring the fruits down to the ground. It also refers to a place where fruits and forest produce are offered for wholesale.
The early Chinese immigrants, who settled in Punggol from the mid 19th century onwards, were engaged in plantation work (mainly rubber). As more and more Chinese immigrants settled in Punggol, poultry farming and pig rearing activities flourished. Trading on farm produce, fruits and vegetables was carried out in the marketplace at the former eighth milestone of Punggol Road. The Serangoon River mouth became the docking point for fishing boats where fishermen gathered to sell their catch.
In the 1960s, basic amenities like piped water, electricity, paved roads, and drainage systems were introduced through government and self-help programmes. It was also at this time that television became popular and antennas could be seen installed on many kampong rooftops.
Poultry and pig farms were gradually phased out when redevelopment commenced in the 1970s. Land vacated by resettled farmers were then tendered out on short term leases for non-pollutive agricultural activities (eg. vegetable farming). Punggol was also known for its sumptuous seafood and boatels that provided services like docking and renting of boats for boating, water-skiing and skin-diving lessons. These seafood restaurants and boatels have since been relocated to facilitate reclamation works.
abstract from http://www.ura.gov.sg/dgp_reports/punggol/int-hist.html
---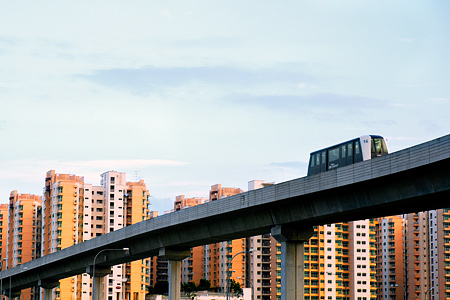 With recent infrastructure developments in Punggol, this formally rural and nature paradise is fast becoming a very urbanized residential & recreational area. But there is still plenty of nature photography opportunity there if you do look carefully.
One place that immediately comes to mind for nature photography will be the Punggol Grassland. Ask any seasoned birder where that is and you will most likely be greeted with a reply "BSK ground", which simply means that this place is famous for spotting the Black Shouldered Kites.
On good days in the past, if you make a trip in the early morning to the Punggol grassland, you will most likely be greeted by Black-Shouldered Kites (below) at the entrance which leads into the grassland. With recent construction works around there, its harder to find them but the last I checked, they are still making a good living, hunting the grounds of Punggol.
Follow the link to view the location on the map for Punggol Grassland. [1]
But there is more species of birds to spot in the grassland apart from the BSKs. Over the years, birders combed this off-road grassland with their precious sedans, SUVs , vans, jeeps and even lorries to get up close to photograph the various birds available there.
The Bee-eaters (above), mainly the blue-tailed and blue-throated, are one of the more common species that you can see during their migratory period. They tend to breed and nest in groups and can be a handful to photograph as they are really fast and action packed.
Various species of shrikes (above) can also be found there. Mainly the Tiger Shrike, Brown Shrike and Long-Tailed Shrike. Just like with other birds, they are seasonal except for the Long-Tailed which are available throughout the year.
Another commonly found species are the woodpeckers (above). Mainly the Sunda, Common Flameback and the Rufous woodpeckers. Best time to spot theese birds are in the early morning and usually on the dead trees.
And if you are lucky, you might be able to spot these other raptors (above) coming down close for a photographic opportunity. The Peregrine Falcon, Braminy Kite and White Bellied Sea Eagles are the more commonly spotted raptors circling the skies and occasionally hunting in the open fields or river.
There is no lack of waders (above) visiting the Punggol's coastal lines, drains and canals during their migratory period (September to March). The Greenshank, Little Ringed Plover, Pacific Golden Plover and Greater Painted Snipes have been spotted around in Punggol over the years.
There are other species of birds that could be spotted in Punggol, mainly …
Richard's Pipit, Lesser Coucal, Yellow Vented Bulbul, Black Headed Bulbul, Peaceful Dove, Spotted Dove, Scaly-Breasted Munia, Baya-Weaver, Pink Necked Green Pigeons, Pied Fantail, Olive-backed sunbird, Grey Heron, Purple Heron, White throated Kingfisher, Common Kingfisher…just to name a few.
The other place within Punggol where one can also check out is Punggol Park where there is also plenty of bird life. There is a man-made pond and a large canal at the rear of the park where there is also plenty of bird life and action.
View the link for the map of Punggol Park [2]
---
But if you are interested to sidetrack your journey a little bit to view a historical structure, you could visit the Matilda House (above-image taken in IR) which is across the road and within 5 mins walking distance from Punggol MRT.
Read more about the Matilda House history from this link. [3]
And if you venture around further towards into the Punggol Marina area, you will see Punggol Beach (above). There is little bird activities here but it is a nice place to catch the sunset and perhaps do some fishing.
If you do want to visit Punggol for birding, its best to go in a car as the public transport is not exactly convienient and accessible to these areas.
But in case you do use the train, use the North East line train route and alight at Punggol MRT Station. Then hop on to a LRT train and alight at Oasis Station to reach the Punggol Grassland.
Bus Service 82 from the Punggol MRT station will bring you to Punggol Beach.
Bus Service 136 from the Punggol MRT station will bring you to Punggol Park.
___________________ above article, photographs contributed and copyright of Roger Deng